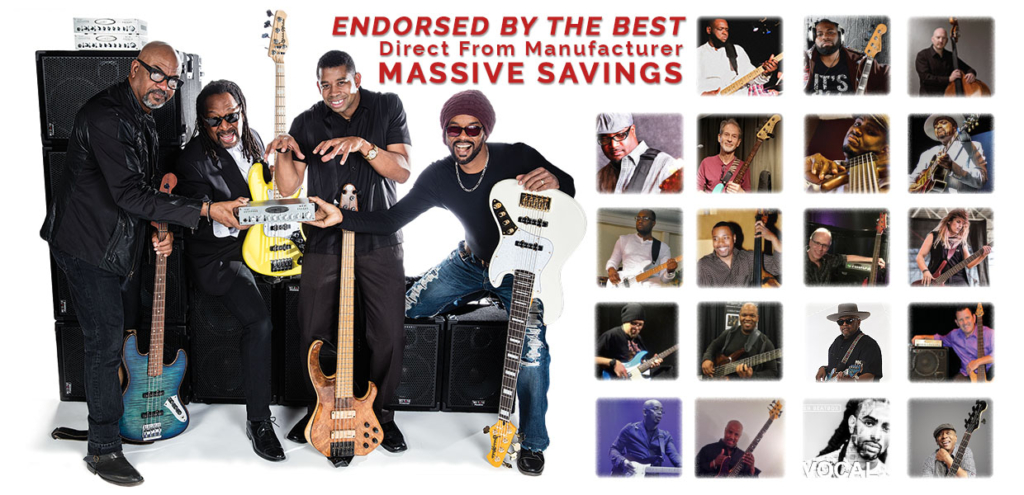 Wayne Jones AUDIO Endorsees Have Performed With, Recorded With:
The following list represents just some of the artists our endorsees have worked with. Many of our endorsees have worked with the same artists during their careers – the very best working with the very best through the genres of popular music, jazz, variety and gospel – all around the world.
Prince, Justin Timberlake, Patti Labelle, Wilson Pickett, Kanye West, T.I, WIILL.I.AM, Timberland, Usher, Black Eyed Peas, Rihanna, John Mayer, Angela Bofil, Chuck Brown, The Soul Searchers, Alicia Keys, James Brown, Stevie Wonder, Chaka Khan, George Clinton, Sheila E., George Duke, Jennifer Holliday, Faith Hill, Jay-Z, John Legend, Marvin Sapp, Kirk Franklin, Mary J. Blige, Anita Wilson, 76 Degrees West, Najee, Jodeci, Roy Ayers, Pieces of a Dream, Kim Waters, Will Downing, Ledisi, Mike Phillips, Brian Culbertson, Jeff Lorber, Candy Dulpher, Angela Bofill, Aaliyah, Marion Meadows, Joe Jackson Band, Jennifer Holiday, Beyoncé, India.Arie, Mary J. Blige, Jamie Foxx, Jim Hall, Andrew Hill, Michael Brecker, Chris Potter, Adam Rogers, Brian Blade, David Binney, Kenny Werner, Clifford Jordan, Herbie Hancock, Edward Simon, Antonio Sanchez, Bill Stewart, Roy Haynes, Beyonce Knowles, Paul Simon, Ramsey Lewis, President Obama's 1st Inaugural Ball, Danny Glover/Harlem Arts, Shakira, Cassandra Wilson, Gerald Albright, Jeff Kashiwa, Cheb Tati/Cheb Khaled, Clark Terry, Cirque du Soleil, Jason Robert Brown, Joan Baez, DeeDee Bridgewater, Ornette Coleman, James "Blood" Ulmer, Nick Cave, Keith Urban, Mike Posner, The BET Awards, Mavis Staples/The Staples Singers, The U.S. Department of State Ambassadors Program, New York Intellectual Property Law Association's Annual Dinner in Honor of the Federal Judiciary, Aida, Oliver Lake, Tokyo String Quartet, David Sanborn, Imelda Staunton, The Rachel Ray Show, Emeril Live w/Doc Gibbs, Melissa Errico, Mary Black, The Dubliners, Linda Twine, Aria, Hezekiah Walker, Lou Meyer (The Cosby Show), Lizz Wright, Gloria Gaynor, Ben E. King, Little Anthony and the Imperials, Lyle Lovett, Maxime LeForrestier, Jean-Paul Bourelly, Shelby Lynne, Jacob Moon, American Vice- Beatbox Champion, Carl Payne, Tommy Ford, Christopher Martin, Shucky Ducky, Tony Tone, Arrested Development, USA Morning News, Good Morning America, Revolt TV, NPR, BBC, TEDx Peachtree, San Antonio Spurs, A3C hip hop festival, Atlanta Pops Orchestra, PBS program Music Voyager, Broadwaymusical "In Transit", Heather Headley, Chris Dave and the Drumhedz, Regina Bell, Marvin Winans, Ruben Studdard, Lupe Fiasco, Kelly Price, Jennifer Hudson, Dwayne Woods, Euge Groove, Rick Braun, Norman Brown, Brian Simpson, Sax Pack, Bill the Buddha Dickens, Toto,Isaiah Sharkey, Nick Colionne, Chanté Moore, Don Cherry, Cree Summers, De Barge, Brian Mcknight, Boyz II Men, Lalah Hathaway, Raphael Saadiq, Dionne Farris, Jimmy Whitherspoon, Rance Allen, The Winans, Dom Famularo, The Clark Sisters, Michael Franti & Spearhead, Walter Kemp 3Oh!, New York Philharmonic, Carly Simon, Marvin Hamlisch, Gladys Knight, Judy Collins, Nanci Griffith, Phoebe Snow, Garth Hudson, Pam Tillis, Rey Scott (The Sun Ra Arkestra), Lou Rawls, Riley Richard, Delbert McClinton, Paul Winter Consort, Dave Weckl, Rick Derringer, Freddie Jackson, Joe Lynn Turner, Little Anthony & The Imperials, Cissy Houston, Leslie Gore, Louis Bellson, Mike Stern, Bob Mintzer, Mike Davis, Oz Noy, Tim Ries, Joel Frahm, Phil Hamilton, Jeff Pevar, Ray Kennedy, Bob Franceschini, Phil Perry, Mike Lawrence, Wah Wah Watson, Jeff Mirinov, Faab Choir, Andy Snitzer, Phil Upchurch, Shelton Becton, Brian Dunne, Sherrod Barnes, Robbie Kondor, Larry Braggs, Ne-Yo, Trey Songz, Jennifer Love-Hewitt, Art Garfunkel, Lisa Fischer, Chris Botti, Sweet Honey in the Rock, Aminor Music Group, Choral CCMM, Chorale Réconciliation C.O.R., Dayana Santos, GPM, J-beats, Jackson Chery & Bridging the Gap, Jean DuCoeur, Jennifer Meade, Kalmunity, Mellow Dee, Sonny Black, EMCI TV (Hosanna), Audrey Dubois, House of Jazz, Deborah Damus, Chantal Labelle, Chosen, J. Moss, Jennie & Julie, Osmann, Joseph Denis, Deborah Damus, Jean Jean, Samuel Shukrani, Eliane Isaac, Joseph Mbaya, Venessa Babier, Joey Calderazzo, Corrine Bailey Rae, Bill Charlap, Joel Grey, Steve Ferrone, Jimmy Gomes & The Jazz Example, Freddie Hubbard, Stanley Turrentine, Randy Brecker, Cab Calloway, Jeff "Tain" Watts, Gerry Mulligan, Phil Woods, Carlton Pearson, Lou Marini, Lester Chambers, Donnie McClurkin, Joe Morello, Dodo Green, Danny Gottlieb, Danny Seraphine, Bobby Militello (Dave Brubeck Quartet), Pete Escovedo, Peter Cox (Go West), Rick Springfield, Cornelius Bumpus, Orlando Wright, Sweet Pea Atkinson, William Murphy, Tom Harrell, Tim Horner, Tony Cintron, Darmon Meader, The FIXX, Richie Morales, Rodney Jones, Alex Bugnon, Kay Morris, Bashiri Johnson, Billy Martin, Wycliffe Gordon, Melissa Etheridge, Michael Bolton, Joan Osborne, Jaman, Clay Aiken, Liza Minelli, Bernard Purdie, Jhené Aiko, Nell Carter, Jerry Marotta, Larry Hoppen, Chris Parker, Rosie O'Donnell, Kathy Rigby, GE Smith, Mino Cinelu, Napoleon Murphy Brock, Jai Rodriguez, Jeff Campbell, Ray Marchica, Peter Fish, Joel Kipnis, Joel Rosenblatt, Steve Khan, Dan Hull, Marvin "Smitty" Smith, Will Lee, R.W. Shambac, Mark Pender, Tom Pierson, Rob Paparozzi, Mindy Jostyn, Sir Harry Bowens, Lenny White, Kuzh, Sal Salvador, John Sebastian, Greg Gisbert, Mitch Stein, Gerardo Velez, Dave Valentine, Meli'sa Morgan, Brian Stokes Mitchell, Leon Ndugu Chancler, Eric Reed, Jon Werking, Jorge Santana, GQ, Thompson Twins, Jennifer Holliday, Bamm Davis, Valerie Simpson, GMWA, Ella Robinson, King Heritage, Kristian Bush (Sugarland), Alvin Ailey Dance Company, Dave Samuels, Vaneese Thomas, Mike Keneally, Ike Willis, Tony Lindsay, Dinky Bingham, Ricky McKinnie (five blind boys), Richard Tee, Noel Pointer, Manolo Badrena, Dawkins & Dawkins, Idris Mohammed, Jim Pugh, Joe Roccisano, Lew Anderson, Ed Palermo, Mark Rivera, Dave Mann, Catie Curtis, Gary Lucas, David Sancious, Jimmy Vivino, Harlem Boys Choir, Jerry Vivino, Tommy McDonnell, Matt Balitsaris, Bob Malach, Vic Juris, Terry Clarke, Neil Slater, Danny Wilensky, The Fantastic Violinaires, Tawatha Agee, Jay Oliver, Nick Moroch, Peter Moffitt, Ray Chew, Howard Levy, Mats & Morgan, Willie Jones III, Buddy Williams, Superheist, Al Tanner, Jules Broussard, Calvin Keys, Faye Carol, Douglas Ewart, David Hardeman, Jeff Narell, Higher Vibe, E.W. Wainwright, Bill Bell, Terrell Prude, Donald Lawrence, Special Gift and (Love & Hip-Hop star) "Stevie J" Jordan, Jonathan McReynolds, B. Chase Williams, Ron Winans, Yolanda Adams, Marvin Sapp, Tye Tribbett, Smokie Norful Dave Valentin, Arlington Houston Quintet, Alphabet Soup, Pan Ramajay, The San Francisco Symphony, Odelia Dunlap, Art Blakely, Mick Hayes, Billy Cobham, Bob James, Bobby Caldwell, Boyd Lee Dunlop, Iona Locke, Derrick Milan, Bobby Lyle, Charlie Wilson, Chico Hamilton, Cool'R, Con Funk shun, Curtis Salgado, Sydnee Winters, En-vogue, Esther Phillips, Everett Harp, Gabor Szabo, George Benson, Grover Washington, Harvey Mason, Herb Alpert, Hubert Laws, Jeff Golub, Jeff Lobber, Jeffery Osborne, Jody Whatley, Miss Fly, Joe Henderson, Joe Sample, Joey Defrancesco, Jonathan Butler, Kirk Whalum, Lela Hathaway, Oleta Adams, Lenny Williams, Lionel Hampton, Livin' Out Loud, Marcus Miller, Narada Walden, Patrice Rusher, Quincy Fielding, Patty Austin, Peabo Bryson, Peter White, Philippe Saisse, Regina Belle, Richard Elliot, The Brothers Johnson, JWayman Tisdale, Dave Koz, Jonathan Butler, Warren Hill, Earl Klugh, Jeffrey Osbourne, Scott Tixier, Tom Scott, Keiko Matsui, Mindi Abair, Adrian Crutchfield, Chris Standring, Deneice Williams, Candy Dulfer, David Benoit, The Busboys, Spencer Day, Toshi Reagon, Jody Watley, Tracy Spencer, Everette Harp, Mark Antoine, Craig Chaquico, Marilyn Scott, Lori Perri, Paul Jackson Jr., Jennifer Batten, O'Mega Red, Danny Jung, Sophie B. Hawkins, Terri Lynne Carrington, Tlc, Martha Reeves, Karen Clark-Sheard, A Tribe Called Quest, Total Eclipse, Rayford Griffin, Al Wilson, Tiny Tim, Ronnie Laws, Steven Ford, Roy Ayers, Side Effect, SOS Band, Swing Out Sister, The Barclays, The Crusaders, The Dazz Band, Toni Braxton, Waxman Tisdale, Wayne Henderson, Wilton Felder, Pleasure, Tequila Mockingbyrd, The ExSenators, Boney James, Down to the Bone, Eric Darius, Micheal Manson, Steve Cole, Janet Jackson, Lisa Stansfield, Yolanda Adams, Chris Brown, Kim Burell, Jully Black, Johnny Gill, Ralph Tresvant, Bobby Brown, Heads of State, Jazzy Pha, Marc Antoine, Steve Cole, Kim Waters, Paul Taylor, Brian Simpson, Chuck Loeb, Jackiem Joyner, Marcus Anderson, Elan Trotman, Jessy J, Matt Marshak, Four80East, Will Donato, Courtenay Frazer, Tom Browne, Shilts, and Blake Aaron, Mel Torme, Ray Charles, Ed Shaughnessy, Donnie McClurkin, CeCe Winans, Yolanda Adams, Fred Hammond, John P. Kee, BeBe and CeCe Winans, Clark Sister's Live – One Last Time, The Oprah Winfrey Show, Brian McKnight, Stevie Wonder, Jay Leno, David Letterman, The Today Show, Rosie O'Donnell, 106th and Park, Destiny's Child.
…just to name a few.