Click Images For Gallery View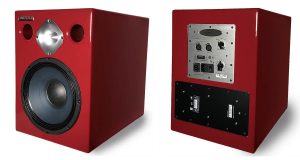 Active Control Panel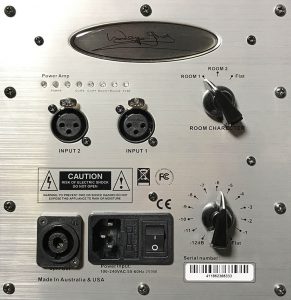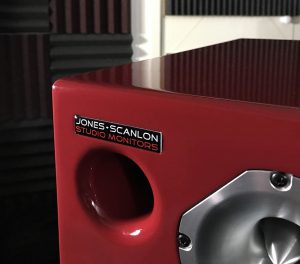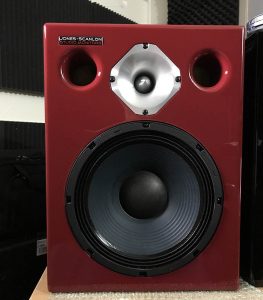 The Jones-Scanlon studio monitors
With my passion and years of experience as a pro bass player, writer, producer, charting solo artist and in conjunction with Steve Scanlon, we have designed the Jones/Scanlon Monitors.
After the initial design was complete I got together with friend Steve Scanlon from Sound Management Australia, who is Australia's #1 Studio & Live sound engineer, working as we do when recording & mixing, tweaking and fine tuning until we know it's done.
Now you can enjoy them as much as we do.
Wayne Jones
Stunningly 2 Pak Automotive finish in black and red with high gloss clear coats. Available in custom colours. Match your décor, order your preferred colour
As are all good high end studio monitors these are made from 19mm MDF for the high density properties of the wood.
The accurate representation of bass & drums is Incredible.
They also make great home stereo or home theater speakers.
Cabinet Specs:
Room Character Selector

Room 1 (suits professional acoustically treated studio)
Room 2 (suits home Studio)
Flat

Power – 1000 watts. 500 Watts per side into 4 Ohms per side
Power Amp is mounted into one cab only.
Power Amp – D Class switch mode stereo power amp with heat sink plate mounted into the rear of one cabinet.
Power Amp frequency – 20 Hz – 20 KHz
Cabinet tuning – 40 Hz to 20KHz (speakers will reproduce below 30Hz so thus the need for the HPF)
Drivers – 2 custom made Wayne Jones 10" drivers with Aluminium cast frames, specially formulated Eucalyptus cone pulp, Kevlar impregnated cones.
Voice coil – 3"
Magnet – Massive Ferrite
Tweeter –  Faital, 1." Voice coil
Crossover point – 3Khz
Control plate – Brushed Stainless Steel
Mains Power in – Standard IEC
2 XLR balanced Inputs
LED readout for standby, thermal & clip Indication.
Attenuator: High -12Db cut
Dimensions
H 33cm W45cm D50.5cm
Weight
Active   18.2kg
Passive 17.2 kg
Steve Scanlon
Steve has worked with many acclaimed artists as Mastering/Mix Engineer and Live Engineer including: Pharrell Williams, Mariah Carey, The Chainsmokers (10 million Sales), Deep Purple, Planet X, The Yellow Jackets, Dim Mak Label / Sony NY & Aust / Warners / Mushroom etc, Kate Ceberano, Australian Idol, The Potbelleez, and Peking Duk.
He is recipient of multiple Aria Platinum and Gold awards, plus Tech award "Best Australian Live Engineer".