January 22 2020
Wayne Jones AUDIO & JONES-SCANLON Studio Monitors @ NAMM 2020
---
January 11 2020
Jones-Scanlon Studio Monitors now with Universal Music Studios South Africa
Man these speakers should come with a warning!
"Sound quality so good, you won't be able to walk away from them!"
Jones-Scanlon Studio Monitors now in Universal Music Studios South Africa, Studio Two & with Joseph And George Mothiba (REVOLUTION)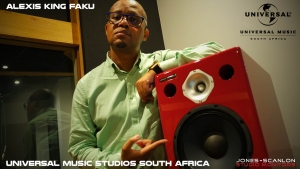 Jones-Scanlon Studio Monitors allow me to hear the essence of the sound at its truest form without color. They cover the whole frequency range with the most defined bass and subsonic frequency achieved without a subwoofer.
Alexis King Faku - Producer, Mixing Engineer, Universal Music studios South Africa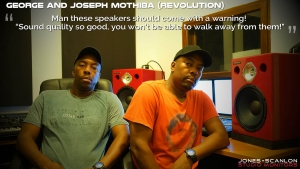 We've been looking to upgrade our studio monitors and a good friend recommended that we try the Jones-Scanlon monitors, nothing could prepare us for what we were about to listen to.
Man these speakers should come with a warning! "Sound quality so good, you won't be able to walk away from them!"
These Monitors are extremely accurate with a tight and well-defined bass and you can listen to them for hours with no fatigue and the sound quality is unmatched by any other speaker we have auditioned before.
The Jones-Scanlon studio monitors are unique, extraordinary and by far the best we've heard.
Joseph And George Mothiba (REVOLUTION)
South African Recording Artists, Producers, Mixing Engineers, Record Label Owners
---