April 2023

I can say that these are impressive speakers on every level. The low frequency is solid, fast, and useable down to 30 Hz, providing a depth and clarity of low end instruments that I haven't heard on any other near or midfield 2-way system. The overall response of these monitors is incredibly detailed and musical. Powerful dance kick drums seem to punch at the listener from between the speakers, while reverb tails and stereo information are naturally represented and easy to understand. Read More ►
Adam Kagan <mixer.ninja>, product review, Tape Op Magazine
Buy Magazine: https://tapeop.com/issues/154/
---
Sept 2022
Behind The Gear: Wayne Jones Audio
Vintage King interview September 2022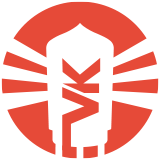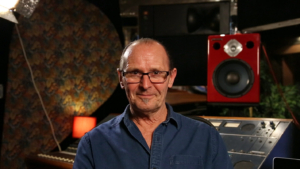 Australian company Wayne Jones Audio has made a name for itself in the pro audio world with its award-winning bass cabinets and studio monitors. Featuring powerhouse handmade drivers, with a focus on high-performance frequency response coming directly from the speaker itself, it's easy to see why the company has garnered praise from the industry for the accuracy and clarity of its sound. Read More ➤
Vintage King - Interview September 2022)
---
Feb 2022
Wayne Jones Audio Reds – Active Monitors With Sonarworks Room Correction
How do you make a great monitor even better? By integrating Sonarworks' acclaimed SoundID Reference room correction system!

My high opinion of the Jones‑Scanlon 10‑inch, two‑way monitors from my original review remains unchanged. However, this integration with SoundID Reference room analysis and correction software can take their real‑world, in‑room performance to another level, which means that these are monitors that you really, really should audition if you have the space and budget to accommodate them. Read More ➤
Bob Thomas, Sound On Sound Magazine (Read full article on online - from March 2022 edition)
Wayne Jones Audio Reds 10″ 2-Way Powered Monitors 650 watt (each)
---
Dec 2021


"They sound absolutely beautiful, congratulations"
"these have got that really clean power …this is a characteristic of the very best speakers"
~ Warren Huart (Produce Like A Pro ), multi-platinum producer for the likes of The Fray, Korn, Better Than Ezra, James Blunt, Ramones, Matisyahu, Ace Frehley, Aerosmith and Howie Day.
---
Dec 2021
Wayne Jones Audio x SoundID Reference from Sonarworks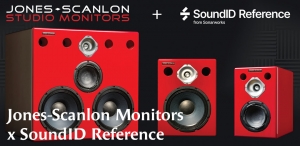 In a textbook example of Australian ingenuity, the duo have managed to become the first monitor manufacturer in the world to successfully integrate Sonarworks' industry-defining SoundlD Reference software into their line of highly touted studio monitors, coming through where others had previously fallen short and beating some very high profile manufacturers to the punch. Read More ➤
Paul French, Mixdown Magazine (Read full article on online edition 318 – December 2021)
---
May 2021
Tim Hands: ADR engineer, 4 Emmys with 9 nominations
for Game Of Thrones & The Life And Death Of Peter Sellers

"Brilliant I tell you, Just brilliant!"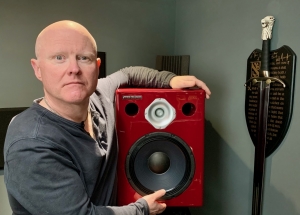 Working with my Wayne Jones Audio Reds it's as if a veil has been lifted from my listening experience. They present such fine detail in the production dialogue and the ADR that I edit, and with such clarity and depth, it feels as though my studio has instantly been turned up to eleven! Now I get to hear tracks in my own room the way I hear them on a big sound stage. Brilliant I tell you, just brilliant!
Tim Hands - ADR engineer, 4 Emmys with 9 nominations for Game Of Thrones & The Life And Death Of Peter Sellers
---
January 2020
Wayne Jones Audio Studio Monitors now with Universal Music Studios South Africa
Man these speakers should come with a warning!
"Sound quality so good, you won't be able to walk away from them!"
Wayne Jones Audio Studio Monitors now in Universal Music Studios South Africa, Studio Two & with Joseph And George Mothiba (REVOLUTION)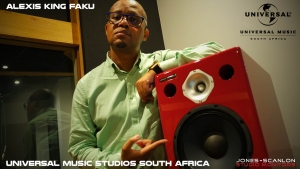 Wayne Jones Audio Studio Monitors allow me to hear the essence of the sound at its truest form without color. They cover the whole frequency range with the most defined bass and subsonic frequency achieved without a subwoofer.
Alexis King Faku - Producer, Mixing Engineer, Universal Music studios South Africa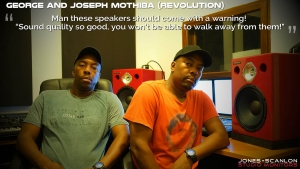 We've been looking to upgrade our studio monitors and a good friend recommended that we try the Wayne Jones Audio monitors, nothing could prepare us for what we were about to listen to.
Man these speakers should come with a warning! "Sound quality so good, you won't be able to walk away from them!"
These Monitors are extremely accurate with a tight and well-defined bass and you can listen to them for hours with no fatigue and the sound quality is unmatched by any other speaker we have auditioned before.
The Wayne Jones Audio studio monitors are unique, extraordinary and by far the best we've heard.
Joseph And George Mothiba (REVOLUTION)
South African Recording Artists, Producers, Mixing Engineers, Record Label Owners
---
July 2019
WAYNE JONES AUDIO Studio Monitors Glowing Product Review
~ Bob Thomas, Sound On Sound Magazine

"The World's Premier Music Recording Technology Magazine"

I began my listening tests with 'Njotke' from the CD Spes by the Norwegian amateur all-female choir Cantus and singer/keyboardist Frode Fjellheim… I know this track exceedingly well and I am not exaggerating when I say that the hair stood up on the back of my neck whilst listening to it through the Wayne Jones Audio studio monitors. The level of detail that these monitors revealed in that recording went well beyond that of any other loudspeaker that I have heard it on before. Read More ►
Bob Thomas, Sound On Sound Magazine
Wayne Jones Audio Studio Monitors
---
May 2019
Wayne Jones AUDIO WJBA & WJBA2 AMPLIFIERS
By Jonathan Herrera (https://bassmagazine.com/)
View Review on Bass Magazine website ►
IN MY JANUARY 2018 BASS PLAYER review of the Wayne Jones Audio WJBPII preamp and WJ 2×10 passive cab, I described the gear as ex-pensive and eclectic, but also among the best out there. I finished the re-view with the editorial equivalent of a cliff-hanger: "Wayne also has a head in the works — stay tuned for a re-view." Little did I know then that the follow-up review I promised would appear in an entirely publication, but nevertheless, I'm happy to de-liver with this month's review of the WJBA and WJBA2 heads.
The design brief for the WJBA was simple: Start with the two-channel hi-fi hybrid preamp that is the WJBPII and mate it to a super-powerful Class D/SMPS power section. The WJBA delivers up to 2,000 watts with its stereo 1,000-watt power section. The WJBA2 is a one-channel variant with a mono 1,000-watt power section in the form of a bridge-able 2x 500-watt power amp. Read More ►
---
May 2019
WAYNE JONES AUDIO Studio Monitors
~ Doug Johnston and Mike MacArthur, All Access Recording
At All Access Recording, our purple Wayne Jones Audio monitors have consistently impressed our producers, engineers and clients, and are the centerpiece of our recording rig. Most importantly, mixing on them grants a confidence that our mixes translate to any other listening environment. People from all walks of life listen, and hear the proof. Musicians, engineers, fans, and critics alike all agree, "These speakers are amazing!" Clarity, detail, power and a bit of magic make these monitors the best we have ever heard. Thank you Wayne, for being so personable, friendly and involved in the process from day one.
---
May 2019
WAYNE JONES AUDIO Studio Monitors
~ Matt Leigh, Studio Manager | Head Engineer
The Tracking Room Studio
The Wayne Jones Audio monitors are incredible! I was immediately blown away by the width and accuracy of the stereo imaging. It is hard to find clarity this good in any studio monitor, let alone at this price point!
---
February 2019
WAYNE JONES AUDIO Studio Monitors
~ Krish Sharma (Rolling Stones Recording Engineer)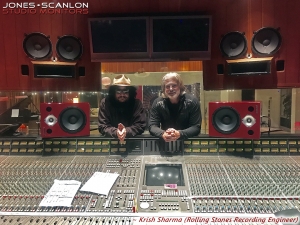 Don Was (Producer) & Krish Sharma (Rolling Stones Recording Engineer)"I first used these speakers with the Rolling Stones, there is no more demanding a situation for a speaker than reproducing a Stones tracking session at volume. I usually would only do a tracking playback for these players on the large studio main speakers, but I happened to have the Jones-Scanlon's on as the band and producer Don Was walked in and as they liked the sound I continued playback. We were so pleased that when we moved to another studio we kidnapped the speakers and brought them with us!"
"The Wayne Jones Audio Studio Monitors are hands down my new favorite monitors. They are unicorns in that they not only are accurate both for frequency and transient response but they have punch and headroom to communicate raw takes with power. While being amazingly accurate, they do not sacrifice musicality."
"Mixes come together very easily on the Wayne Jones Audio Studio Monitors. I find myself needing to switch between speakers much less and I am able to balance very quickly because the speakers are accurate and musical at all volume levels. Working with the Rolling Stones, I need a speaker that can reproduce dense arrangements of stringed instruments accurately and without coloration and these achieve that goal effortlessly."
"The Wayne Jones Audio Studio Monitors have the detail and accuracy for low volume mixing and also the power to rock the house with musicality. They are a great studio solution and accomplish multiple roles without compromise."
"After hearing these speakers quite by accident, I knew I had to have them. I tracked down the manufacturer unsolicited."
Wayne Jones Audio Studio Monitors
---
October 2018
"Translating Every Sonic Nuance Of My Playing"
BASS MUSICIAN MAGAZINE REVIEW BY JAKE WOLF

Wayne Jones Audio WJBA & WJBA2 Amplifiers and WJ 2×10 Cabs Review
By Jake Wolf  (www.bassmusicianmagazine.com)
View Review on Bass Musician Magazine website ►
A while back, Bass Musician Mag reviewed a couple rigs from Wayne Jones Audio, including some of their exceptional bass preamps and powered cabinets.  I remember being struck by the build quality, feature set, and above all, killer tone of Wayne's gear.   Well, he's at it again, and true to form, he's blowing the roof off with a line of incredibly powerful and feature laden bass amplifiers and speaker cabinets.   The WJBA and WJBA2 amps offer bassists well thought out features and options that leave professional players wanting for nothing in terms of volume, flexibility and tonal options.  He also sent over a pair of his new passive WJ2x10 cabs to check out, which incorporate some smart updates from his line of powered cabs, and similarly (and most importantly), have tone for days.   I am as blown away by this rig as I was the first batch of Wayne Jones Audio gear, and it's nice to see the more conventional approach of powered amplifiers and passive cabinets, since most of us are more accustomed to this configuration.  It's pretty obvious from the get-go when you unbox and power up Wayne's gear that he's not messing around here. The rig looks serious, feels serious, and sounds very serious.  Let's take a closer look.
Wayne Jones WJBA and WJBA2 Amplifiers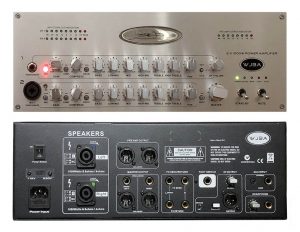 The flagship of the new line is the formidable looking WJBA amp, a 2 channel, 2000-watt bass amp monster that at first glance can appear a little overwhelming.
Designed in collaboration with, and incorporating feedback from Wayne Jones Audio endorsees Andre Berry (David Sanborn, Brothers Johnson, Peter White) and Scott Colley (Herbie Hancock, Michael Brecker, Jim Hall),Read More ►
---
September 2018
New Rig for Euphoria Studios NYC Studio 1
Wayne Jones AUDIO is the best bass gear we've ever used in our rehearsal studios. You've got to try it.
Euphoria Studios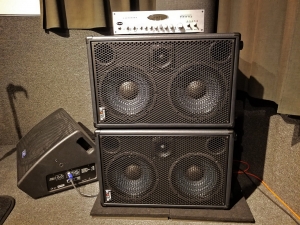 WJBA2 1000 Watt Stereo Power Amp
6 band EQ built right into the head and 1000 Watts into 4 or 8 Ohms!
WJ 2×10 Passive 700 Watt Bass Cabinet
700 Watt @8 Ohms, Compact, High End, Crystal Clear, Full Range 2×10 Bass Cabinet (40 Hz – 20 KHz)
Euphoria Studios NYC
40 W 27th St, 9th floor
New York, NY 10001
www.euphorianyc.com
www.facebook.com/euphorianewyork/
---
"The Wayne Jones Cabs Are As Good As It Gets"

BASS PLAYER MAGAZINE'S REVIEW BY JONATHAN HERRERA

Wayne Jones Audio
Wayne Jones Audio WJBPII Preamp and WJ 2×10 Cabinets
Jonathan Herrera
for January 2018 issue of Bass Player Magazine http://www.bassplayer.com
View on Bass Player Magazine website ►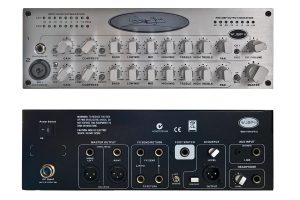 Australian bass player and amp designer Wayne Jones has long existed in a rarefied space in the amp world, first making his name in 2001 with a 2×10 cabinet that beguiled the BP staff as much as any we had then reviewed. More recently, he coupled his prodigious cab-design know-how with the proliferation of lightweight, high-powered built-in amps. The results were no less impressive, as I surmised in my July '15 review of his WJ 2×10 powered cabinet. Paired with a great preamp, the WJ powered cabs were a formidable addition to the powered-cab market segment.
In the couple years since, Jones has gone a step further. First, he's updated his line of powered and passive cabinets. Even more substantially, he's released his first preamp, the two-channel WJBPII. The feature-laden WJBPII is the result of an extensive R&D process undergone in conjunction with top players like Scott Colley and Andre Berry. Read More ►
---
Wayne Jones Audio Studio Monitors
Testimonials / Quotes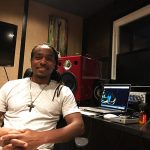 Listening to these speakers made me realize that there was more to sound than I thought. I've mixed 90% of all of the work I've produced (Jennifer Hudson/Tito Jackson) and many more. I've never heard anything that even comes close to these!!! These are great for sound design, scoring, mixing, recording, and writing. All around great product!!! I'm truly grateful to have met Mr Jones and a huge thanks to Garrett Body.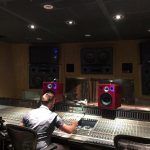 Wayne and Steve have truly designed a great set of versatile studio monitors that add a level of depth to what you are able to hear in your tracks.
Jeff Barnes
VP General Manager
Record Plant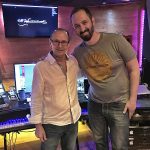 Why have a sports car when you can have Wayne Jones Audio Monitors. The reverb tail is very impressive.
Slavic Livins
(Beyonce, Busta Rhymes, Christina Aguilera, John Legend, Kanye West, Keyshia Cole, Snoop Dog, Syleena Johnson)
Wayne Jones Audio Studio Monitors ➤
---
Bass Musician Magazine's Review, by Jake Wolf
View on Bass Musician Website ►
If you've been following the boutique bass world since the 90's like I have, the name Wayne Jones Audio might ring a bell.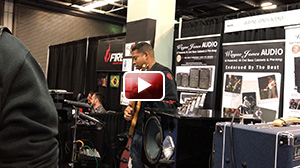 Endorser David Dyson performing at NAMM 2017
I first heard about Wayne's cabs a couple decades back, and although I never had the chance to hear one in person, I was very intrigued by their interesting specs and their relative rarity in the market at that time. Wayne was selling cabs here in the US until shortly after 9/11, at which time, Wayne says, "everything changed". Cab sales in the US dropped sharply, and Wayne went back to his busy career gigging as a top call bassist. So when I saw Wayne's gear resurface in the last couple years, I was again intrigued. His current offerings include powered 1×10 and 2×10 cabs, as well as his own stereo tube preamplifier (At NAMM 2017, Wayne introduced a good old passive 210 as well as a 2 channel version of his pre. More below). I reached out to Wayne and he couldn't have been more gracious or generous with his time and gear. He promptly sent me an array of cabs and his preamp to check out, and I've been having a blast with all of it.
Before we get to how the gear works, let's look at the equipment itself.
At 24" tall, 16" wide, and 22" deep, the 210 dimensions are fairly unique for bass cabs. I asked Wayne about the extra depth of the cabs (both the 210 and 110), and he responded that the depth allows him to not only achieve a desired cubic volume, but also the distance between the driver and the back wall is very intentional, in order to achieve certain performance goals. As a result, the 210 is a somewhat odd form factor. Luckily, it has a built in telescoping handle and tilt back wheels, making the schlep pretty easy. All the gear is covered in a very high quality black carpet, which seems better than a lot of the cab covering I see (Wayne responds: future cabs will use High end automotive leather look Vinyl covering). The preamp had a very nice build quality: all the knobs and switches felt solid and had nice resistance to the pots, thus reducing the risk of bumping controls mid-gig, and boding well for the gears overall lifespan. From a fit and finish perspective, the Wayne Jones gear is simply top notch. Read More ►
---
November 2016
"It's seriously epic – Insanely well made
I want one, I want two! – It sounds AWESOME"

Scott Devine of ScottsBassLessons.com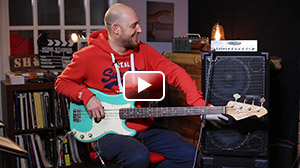 Wonderful video review from Scott Devine of ScottsBassLessons.com for the WJ 2×10 1000 watt powered cabinet and WJBP Stereo Valve Bass Guitar Pre-Amp
N.B. Competition mentioned in video was for November 2016 and no longer running.
---
"THE BEST POWERED CABS I'VE HEARD"

BASS PLAYER MAGAZINE'S REVIEW BY JONATHAN HERRERA

Wayne Jones Audio
WJ 2×10 & WJ 1×10 Powered & Passive Cabinets
Jonathan Herrera
for July 2015 issue of Bass Player Magazine http://www.bassplayer.com
View on Bass Player Magazine website ►
I WAS 23 WHEN I STARTED AT BASS Player in 2002, so no matter how precocious I thought I was, to say I learned on the job is an under- statement. Fortunately, I had the bass journo All Star team on hand to whip me quickly into shape. I leaned hard on each of my more experienced col- leagues, but early on there was no one I needed more than Terry Buddingh, whose knowledge and abundant patience I frequently put to the test as a nascent technical editor. Terry is genuinely passionate about audio gear and has the wizened aspect of a guy who's played, taken apart, and repaired thousands of basses and amps. When Terry really liked something, I took it seriously; nobody sliced through marketing hype better. I can recall long discussions about innumerable pieces of gear that came through the office, but few stick out as much as his deep and abiding love for an esoteric 2×10 made by a bass player in Australia, Wayne Jones. BP glowingly reviewed the Wayne Jones 2×10 in 2001, just before I arrived, so for me the cab was the stuff of legend. Plus, its extreme scarcity meant I couldn't pop down to the local Guitar Center and give one a spin. Regardless, the cabs went out of production in the mid 2000s.
Read More ►
---
June 2015
"THEY ARE SIMPLY SOME OF THE BEST SOUNDING CABS ON THE PLANET"

BASS GEAR MAGAZINE'S REVIEW BY TOM BOWLUS IS NOW OUT
Wayne Jones WJ 2×10 And WJ 1×10 Bass Cabs
Tom Bowlus
from http://epublish.panaprint.com/publication/?i=251644&p=44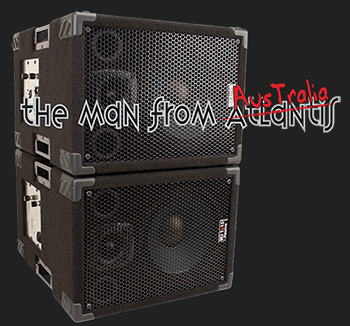 The Company Line
So many times, the things which fascinate us – sometimes to the point of obsession – are the things which are the least obtainable. This definitely holds true for bass gear, and for some time, one of the best examples of "unobtainium" in the bass world were those mysterious 2×10 cabs from some guy named Wayne Jones. Nobody was really sure just who he was, or if he even existed, but rumor had it that he was some foreign land, like Atlantis, or Australia, or something. Combined with what we didn't know about Wayne Jones was that what we did know was that everyone who had actually heard them seemed to fall madly in love with them. So, of course, I had to have a pair of these cabs for myself!
I was lucky enough to snag two Wayne Jones 2×10's on the used market, and sure enough, they lived up to the hype. Yes, they wanted a good bit of power to sound their best, but if you paired them up with an adequate amplification, they provided deep, powerful tone for days. So, mission accomplished; having secured these cabs, the mystery was over, right? But rumors are funny. Just when you think the story is done and over, new wrinkles break the surface. Terry Buddingh first piqued my interest by claiming that he actually knew Wayne Jones. "Really? He's a real dude, and not just some made up brand name?" Then, Terry goes on to tell me that he's trying to convince Wayne to start making cabs again. "That'd be great!" Oh, and this time around, he's going to make them powered cabs " Uh oh … I'm getting sucked back into the mystery!"
Read More ►
---