Click Images For Gallery View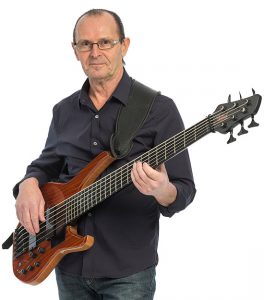 New CD – Mr. Jones
Released October 2014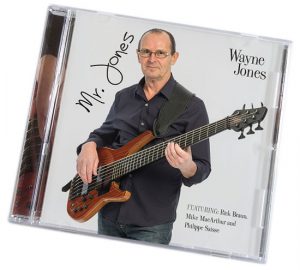 This is Wayne's 4th CD
All available from
Wayne Jones @ cdbaby
Wayne Jones  
Based in Melbourne Australia.
I am primarily a solo bass player, writer, producer and own my own record label.
Prior to this for over 40 years I was a sideman in the Australian music scene, touring, sessions, clinician and product advisor for major companies.
When I started playing I could not afford extra bass cabinets so my father and I built one.
Ever since then I have been Interested in designing my own bass cabinets through gaining knowledge and the need to better what was on the market.
In 2001 Bass Player Magazine gave me that rave review that stated that my bass cabinets had unbeatable detail and balance and bassists should rejoice in the promise of a new cabinet renaissance thanks to myself and Michail Barabasz.
Also when describing them said think high resolution studio monitors. They were that close to being studio monitors I decided to make some.
Well since then I have recorded and produced a few CD'S of my own, done some touring and thought it was about time I designed a new range of cabinets making some improvements on my last model.
What we want and how to get it.
As bass players we are always on the search for our perfect sound.  No matter what style of music or what bass you use you want to be able to reproduce that bass's sound, tailor your EQ and FX. 
It works like this.
First the Signal, (your bass) then reproduction.
In the studio you plug straight in through a high quality DI such as an Avalon U5 and that is your actual sound to be processed. You may also mic a cab for it's sound.
The speakers should reproduce the signal that you process through your amp and FX.
On stage have you ever wondered why FOH Engineers usually prefer pre instead of a post send from your DI? The reason they like that is the sound you get on stage from most amps is not actually what you're sending them. Between the coloration of amps and FX and the inaccurate reproduction through most bass cabinets he wouldn't get a workable sound.
Now with my cabinets you can send him the true representation of your sound as you have virtual studio quality on stage.  He will need a little demo of that to feel confident. But if they know their stuff it won't be a problem and they will love it.
This is what I wanted in my rig and that's why the first models worked.
Design and sound
We like 10's as they have tight bottom end with great attack.
The problem is to get the frequency range we require out of them.
I went to Michail Barabasz of Lorantz Audio in Melbourne and asked him to make me 10's that could cater for the low B to the high C on a six string bass with a clean clear even frequency response all the way.
Now that a pretty tough ask for a 10"speaker. I also gave him my digital pre amp graph shape that I used at the time.
He reply was, "You want WHAT out of a 10?!!!!!!!"
He did it.  A 3 inch voice coil, Kevlar Impregnated cone with +- 5 mm travel that will actually excurt to 13mm. Whether it pops back in or not is a different thing.  My previous cabinets also delivered to around 28Hz. I still use the same drivers in my new models.
A Boeing engineer in the USA asked me if he could test them to the near point of destruction and was amazed and how good they were.
You can use 10's for subs or have them with more mids or highs but to get an even frequency response in the driver itself (not the cabinet) from 40Hz to 4Kz has been virtually impossible for every other speaker manufacturer.
We have achieved that and that is why I am proud to say they are the best in the world.
If you design the speaker itself to reproduce accurately what goes into it then you are not compensating with box tuning.
Ever noticed how sometimes you can pull as sound and there are still certain frequencies you cannot get rid of or there is some mud around them. That's because the speaker is more prominent in certain areas and or your amp EQ selection points are not in the right place when designed.
Comparison
Most cab companies get one speaker manufacturer to make their speakers. And they generally operate on a budget for a large turn over.  I operate on building the best quality I can with no exception or expense spared.
This is why my cabs cost a little more. You do get what you pay for.
You simply can't buy a Ferrari for the same price as GM or Toyota.
I am sure you're going to enjoy my new range of High End, High Powered cabinets as much as I do.