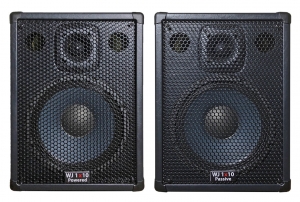 Stock Sold Out – Now Made to Order
Guitarists Secret – The WJ 1×10's
Are Extremely light weight (no more back trouble) great for small rooms. 500 Watt a side, 4 ohm cabinets that are used as a pair in stereo or parallel mono.
Powered 1×10 Cabinets now Made to Order only.
Stock available for Passive 1×10 Cabinets.
Passive 1×10 Cabinets are a great match with the stereo WJBA2 1000 watt Amplifier
The WJ 1×10 1000 Watt Powered Stereo/Mono system
&

WJBP Stereo Valve Pre-Amp is also an amazing Guitar Amp/Rig and gaining high acclaim from USA Guitar Players.

Gerey Johnson
"Wow these are incredible"
"Wayne Jones Audio rig on its 1st gig – Frickin rocked!"
"Lots of punch, cut through most excellently and was able to get a warm jazzy tone, get funky rhythm skanks and rock out with no issues! Pedals sounded like how they were supposed to! Love me some Wayne Jones Audio!"

Nick Colionne
"The amp is killing. The presence, the way it's punching me be the back, just loving it all – I am loving it."
"I can hear myself with amazing clarity. As a front man I move all over the stage. They are so clear & precise with such an awesome fast attack. I was so used to the sound going out of the back of my amp. I can't believe what I'm hearing! I just plug into the front of the pre amp & spread the cabs apart to my liking. I asked my sound engineer if I was too loud as they were so present, he said "no not at all""
USE THEM FOR GUITAR, KEYBOARDS & VOCALS
(as well as Bass Cabs)
Tom Bowlus (Bass Gear Magazine USA)
Having awarded extremely high merits of them as bass cabinets "They Are Simply Some Of The Best Sounding Cabs On The Planet", Tom has also exclaimed "The two 1×10's make some of the best vocal monitors I have ever used!"
Atlanta Backline Company
As well as bass players, they hire the WJ 1×10's systems to keyboard players and they are being used for vocal PAs.
HeaveN Beatbox
A Crossover Beatboxer from the US and currently performing the role of "Boxman" on the Broadway musical "In Transit", HeaveN Beatbox is an endorsee of the 500 Watt 1×10 Powered Bass Cabinet with the WJBP Bass Guitar Pre-Amp.
In Years Gone By
The Fender Bassman used to be the bees knees (secret stuff) for guitarists, so it's not surprising that a high end bass amp that reproduces ANYTHING that's plugged into to it exactly as the instrument sounds is gaining deserved popularity.
Get on board for that Wayne Jones AUDIO smile.
These will blow you away. I would only be using these if I was doing smaller gigs.
They are so light but sound so full & clear, 40 Hz- 20 KHz
You can also use the powered one by itself as a 500 Watt cabinet. It will only use one side of the power amp which operates totally separate from the other.
Besides all that you can pop them up on stands & use them for monitors in your home studio.
Cabinet Specs: For a pair
Power – 1000 watts. 500 Watts per side into 4 Ohms per side
Power Amp – D Class switch mode stereo power amp with heat sink plate mounted into the rear of one cabinet.
Power Amp frequency – 20 Hz – 20 KHz
High Pass Filter – 30Hz roll off
Cabinet tuning – 40 Hz to 20KHz (speakers will reproduce below 30Hz so thus the need for the HPF)
Drivers – 2 custom made Wayne Jones 10" drivers with Aluminium cast frames, specially formulated cone pulp, Kevlar impregnated cones.
Voice coil – 3"
Magnet – Massive Ferrite
Tweeter –  JBL, 1.75" Voice coil
Control plate – Brushed Stainless Steel
Mains Power in- IEC
2 XLR balanced Inputs with parallel mono (link) or stereo selection switch.
LED readout for thermal & amp; clip Indication.
Attenuators
High -12Db cut
Mid attenuator -12Db cut @ 300Hz to 600 Hz range
Dimensions
Height: 47cm Width: 35cm Depth: 52cm
Weight
Active   15kg
Passive 14.5kg
WJ 1×10 Passive Cabinets also can be paired with the stereo
WJBA2 1000 Watt Amplifier
Product Videos
Related Product Videos