Click Images For Gallery View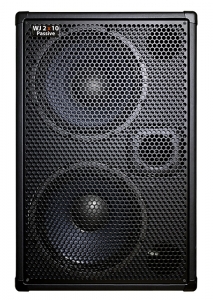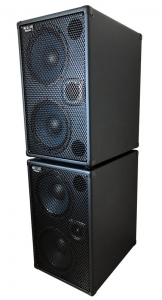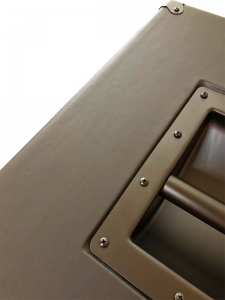 The WJ 2×10 Passive 700 Watt Bass Cabinet
Now you can have the same incredible cabinet sound using the head of your choice.
Building on the range of awarded and highly acclaimed powered cabinets.
700 Watt @8 Ohms, Compact, High End, Crystal Clear, Full Range 2×10 Bass Cabinet (40 Hz – 20 KHz & does the job of a 4×10)
The custom made WJ drivers themselves are 40 Hz to 4.5 kHz & will extend down to 28 Hz, Kevlar impregnated cones with huge magnets.
Clean true mids with no cloudy sound like other cabs.
True studio sound for your bass but with the added live sound reinforcement.
Light & portable, the cabinet is made from lightweight poplar ply which is internally braced.
I still use the same 10" driver design that was in my previous model (if it aint broke don't fix it) with air dried Kevlar Impregnated cones, a 70mm voice coil, massive ferrite magnets (in preference to Neo).
All bass cabinets in the new range now have JBL tweeters.
1.6mm perforated powder coated front.
Bar handles for carrying.
Attenuators
Set the mid around 3 o'clock & the high approx.  12 O'clock.
Dimensions
Height: 64.5cm   Width: 40.5cm   Depth: 51.5cm (25.4 x 15.95 x 20.28 In)
Weight: 29 kg (64 Lbs)
Cabinet Specs
Cabinet tuning – 40 Hz to 20KHz
Drivers – 2 custom made Wayne Jones 10" drivers with Aluminium cast frames, Kevlar impregnated cones with specially formulated Eucalyptus pulp
Voice coil – 70mm
Magnet – Massive Ferrite
Individual driver specs. 40 Hz to 4.5 KHz
Tweeter –  JBL, 1.75" Voice coil
Crossover point 3.5Khz
Control plate-  Black Steel
Attenuators
High -12Db cut
Mid  -12Db cut @ 300Hz to 600 Hz range
Product Video