N.B. The WJA Ethernet App, for uploading SoundID Reference room calibration profile via network, is only available and suitable for multichannel monitor configurations. May also be requested with made to order purchases, for those who plan to upgrade to a multichannel system in the future. Other systems will utilize the WJA USB App.
Test your audio (example for 2.0 configuration, same applies for multichannel):
With the monitors off, please connect the left & right audio outputs of your interface to the left & right XLR inputs of the monitors

Position the Input switch to XLR (down position in photo) & position the other room switches to the centre position (flat)
IMPORTANT: Make sure the output volume level on your audio interface is turned down
Power on your Wayne Jones Audio monitors & check that you have audio when connected
Wayne Jones Audio Monitors DSP internal audio output sample rate is 192kHz 24 bit
You can set your audio interface output to any sample rate up to 192kHz

Wayne Jones Audio recommend sample rates of 96kHz or 192kHz

Now you are good to start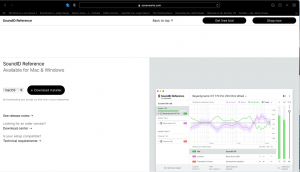 The activation key is in the SoundID Reference package that comes with the Wayne Jones Audio Monitors.
!!!Critical whilst doing any measurement!!!!!
As you face the monitor set the input switch to the right for XLR input
Set Room 1 & 2 and Room 3 & HPF switches to the centre (flat) position. This is the system flat response
Open SoundID Reference measure app & follow the prompts (when prompted select your configuration, 2.0 to 9.1.6)

At the end of the completed measurement name your profile & launch the SoundID Reference application when prompted

For the SoundID Reference app settings (along the bottom of the app)
Wayne Jones Audio recommend the following settings be used
Filter set to zero latency
Listening spot enabled (this exports gain and delay parameters, essential for multichannel time alignment)
Limit Controls, Maximum low frequencies and Maximum high frequencies set to Extended (this gives you the full frequency range of your measurement). These settings will be transferred to your export files
Safe Headroom, set to enable
Set Calibration to enabled
Export your profile
You now need to export your profile where it will be converted into left & right or multichannel binary files (bin files). These files are needed for the upload process to the Wayne Jones Audio monitors.
Go to your preset name which is located in the left hand column of the SoundID Reference app
Hover over the green FLT text, then click on the 3 dots that appear
In the dropdown box please click export

A panel will appear please select Wayne Jones Audio for export

Please note a dropdown box will show where your bin files will be sent
Please click "Export"
Your files have been exported

Confirm the files are visible in the designated location
Quit SoundID Reference app
Uploading To Monitors with WJA App
Now enjoy the amazing sound reproduction brought to you by Wayne Jones Audio Studio Monitors & SoundID Reference from Sonarworks
Resources & Wayne Jones Audio Studio Monitors Product Information
How to export a Sonarworks SoundID Reference room measurement profile for Wayne Jones Audio Studio Monitors.
WJA SoundID Reference Upload App (USB) Instructions
WJA SoundID Reference Upload App (Ethernet) Instructions