User Review – Marcus Miller
"Wayne Jones has a great unit in the WJBPII. Clean, clear and detailed and all the tube warmth you could ever need. Way to go Wayne!"
www.marcusmiller.com
---
User Review – Don Adams
"I just had the honor and privilege to play through the best bass rig on the planet ! …
Wayne Jones AUDIO bass rig
2000 watts of pure power
Thick, punchy, clean, and powerful
It sound like someone took a cloth and polished each note before it was released from the speaker!"
www.facebook.com/TheDonAdamsBand
---
"I've never played through a better system"
WJ 1×10 STEREO/MONO 500 Watt a side BASS CABS
& WJBPII TWIN CHANNEL BASS PRE-AMP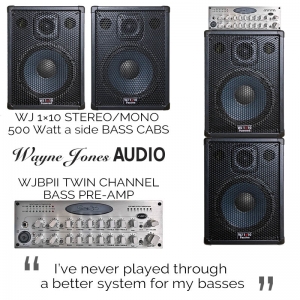 Michael sent through a "Happy New Year!" message:
"I finally had an opportunity to unbox and try my new WJ gear!"
"Everything is amazing with your preamp and powered /passive cabs. I cannot express how thrilled I am with the incredible clean sound when using either my electric bass (I play an older Ken Smith 4, built in 1989 – amazing bass), or my double-bass (I have an early 60s fully-carved round-back Juzek, and I can now blend the realist piezo pickup with the AT condenser mic). Incredible amplified sound with the Juzek through your amp, with tons of clean volume on hand. There's not a single note of muddiness nor wolf-notes anywhere on the fingerboard with the acoustic when amplified, even at louder volumes, which is a first for me. Just a fully balanced, clean, pure sound. Amazing!! The pre-amp and powered cab together represent the sound as exactly produced from the instrument. I cannot wait to show it off to my band mates over the next few weeks."
"I've never played through a better system for my basses. Not even close. Period."
WJBPII Twin Channel Bass Pre-Amp ►
WJ 1×10 Stereo/Mono Bass Cabinets (500 Watt a side) ►
---
User Review – Upright Bass With Wayne Jones Audio Rig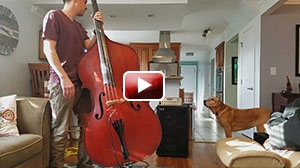 Upright Bass with 1000 Watt Powered Cab & WJBPII Twin Channel Pre-Amp
"WJ 2×10 Cab with WJBPII Pre-Amp. Upton with a full circle pickup. Probably the most accurate upright bass tone I've ever been able to reproduce with an amp, just perfect."
Direct Youtube Link
WJ 2×10 1000 Watt Powered Cab ►
WJBPII Twin Channel Bass Pre-Amp ►
---
September 6, 2016 
User Review – Lloyd
Review of the single powered WJ 1×10 bass guitar cabinet
Wayne,
I've spent some time with the WJ 1×10. It's everything you said it would be. Good, even response throughout the range of whichever instrument I play through it.
I have old Yamaha BB-5000's (actually 3 of them). I was an early purchaser after trying out a prototype that Nathan East let me play on, back in 1984. One is strung with a Low-B. The WJ 1×10 reproduces this bass just like my headphones (Sony MDR-7506), or my studio monitors (Dynaudio BM6a). Nice and even, no bumps in any particular range (i.e., no boomy low-midrange, no honky high-midrange).
I've also played my acoustic double bass, with a Realist Copper Pickup, through the WJ 1×10. Same evenness, and it seems to let the growl come through very musically. The bass sound coming out of the speaker is the same sound of the bass, or as much as a piezo can deliver — only louder.
My Moog Taurus 3 Bass Pedals are HUGE sounding – which they are supposed to be. The hi-fi nature of your cabinet works great for the synth bass – ALL the frequencies come through evenly, once again in a very musical way.
I'm using an Acoustic Image Clarus amp. But only the preamp out to the WJ 1×10. I pretty much run the EQ flat — I like the sound of my instruments, and don't need to color them much.
A few times, I've simply plugged a bass into a Preamp-DI (Fishman Pro-EQ Platinum Bass), and then into the WJ 1×10. Works fine.
I also experimented a bit with mic'ing the WJ 1×10 (some quick recording of only the speaker, not the tweeter) with a Shure Beta 52A – better than DI'ing! Now, if I can convince the sound-guys to do this over a DI, or at least together, it would be awesome!
A little off the track. Are you aware of the Phil Jones Ear-Box? I picked one up, and plugged it into the Speakon Out of the WJ 1×10, selected Input-Link. It supposedly puts no load (or very little) on the amp. I position it behind me, up on a mic stand. It's VERY useful when I play upright. Nice monitor for intonation. 😉
Anyway, back to your speaker… I'm very satisfied with this powered cabinet. It's just what I was looking for – portable, powerful, great-sounding, and musical. I'm very glad I found you!
I have ordered two road cases for the WJ1x10. So… I'd like to purchase the passive 1×10, if I may. 😉 I will need to fill that empty 2nd road case.
Thanks for a great product!
Lloyd
Lloyd's Update – 16th Sept 2016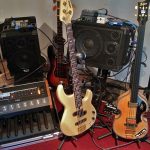 Having signed off with:
"I have ordered two road cases for the WJ1x10. So… I'd like to purchase the passive 1×10, if I may. 😉 I will need to fill that empty 2nd road case."
Well he did indeed buy the passive 1×10 to make up the 1000 Watt 1×10 / 500 Watts per side pair.
"Wayne,
Got the passive speaker a couple days ago. Twice as much awesomeness!
Just have to tell you… I was playing through my studio monitors, about 2 months ago, asking myself, "Why can't there be some bass speakers that sound smooth, even, high-end, and with some useable stage volume?"
Oh, and portable! 😉
I went hunting and found your speakers. So glad that I did!
Thanks!"
---
December 5, 2015 
User Review – Joe-Fernand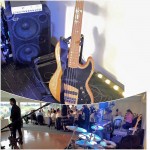 Joe posted this great update review of his WJ 2×10 Power Bass Cabinet & WJBP Stereo Bass Pre-amp on Facebook
"My WJ rig pays itself off in spades in this situation. I play a lot of wedding and corporate events where your crammed into a small place such as tonight. This rig operates punchy and clearly at low volumes for a dinner set. it won't mess with your drummers kick drum and you can crank it beautifully for the last dance set. I truly Love Em"
---
June 3, 2015 
User Review – Jockerz
"I wanted to share with you a truly awesome piece of Aussie gear I've added to my arsenal this past weekend."
Big thank you to Jockerz (Joe) on Oz Bass Forum for a great user review of his recent purchase, WJ 2×10 Power Bass Cabinet & WJBP Stereo Bass Pre-amp.
Read more ➤