(Page Index)
High powered, mid/near-field 2-way studio monitor. Custom handmade 10" bass-mid driver, Kevlar impregnated eucalyptus pulp air-dried cone. Bullet-style machined aluminium tweeter with a 1.46" voice coil. State of the art D Class switch mode power amp, 192 K SHARC DSP.
For ultimate excellence in recording studios. Stunning Frequency Response, Incredible phase & time alignment. Undeniably Accurate, Faultless Frequency Reproduction, Incredible Depth, Clarity & Dimension.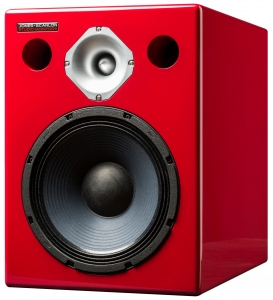 Stunning frequency response
Incredible accuracy
In phase with world leading transient response, allowing hyper accurate compression settings within the mix
Faster mix times
Less changes
Virtually no cross referencing
650 Watts of power per Monitor
35 Hz to 20 kHz flat
A bass response more musical than any sub combination
---
Click Images For Gallery View
---
Packaged with SoundID Reference & Microphone From Sonarworks


The Jones-Scanlon Studio Monitors are incredibly accurate in all areas. For potential room acoustic issues we bundle SoundID Reference with mic from Sonarworks measurement and correction program.
SoundID Reference from Sonarworks is for room acoustic issues and not a simple fix for lessor quality speakers. It always starts with the source and the Jones-Scanlon Studio Monitors, with their incredible flat response, are significantly the most advanced source currently available. Combined with Sonarworks' SoundID Reference measurement the ultimate perfection for any room is secured.
SoundID Reference from Sonarworks includes: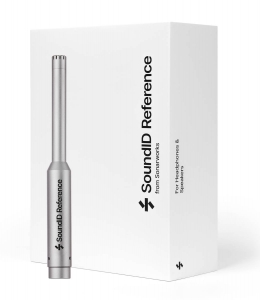 SoundID Reference Measure - step-by-step guide
XREF20 calibration microphone with individual calibration curve - the mic alongside SoundID Reference Measure guarantees maximum precision
SoundID Reference Systemwide - Sonarworks SR applied to all audio output
SoundID Reference Plugin - zero latency in your DAW
Headphone profiles - See the list of supported models here:
www.sonarworks.com/reference/headphones
Jones-Scanlon Studio Monitors in partnership with SoundID Reference from Sonarworks
Upload and store room calibration profiles directly into the monitors up to 10,000 times
---
---
Industry Reviews
Jones-Scanlon Reds - Active Monitors With Sonarworks Room Correction
---
Produce Like A Pro – Review and Interview for Jones-Scanlon Studio Monitors
---
Jones-Scanlon x SoundID Reference from Sonarworks
Mixdown Magazine - edition 318 – December 2021
---
Sound On Sound Editors' Pick for Gear Of The Year 2019

Wonderful recognition from the editors of Sound On Sound Magazine, the Jones-Scanlon Studio Monitors have been selected as a Editor's Pick for Gear Of The Year 2019.
---
Nominated in the Prestigious SOUND ON SOUND Global Reader Awards
Sound On Sound Magazine NAMM 2020 Interview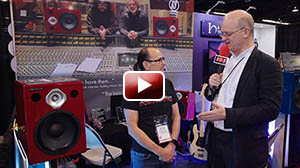 ---
SOUND ON SOUND - Glowing Product Review
"The World's Premier Music Recording Technology Magazine"
Read Full Review on Sound On Sound website ➤
---
---
Read More ►
---
Jones-Scanlon Studio Monitors now in Universal Music Studios South Africa
with Joseph And George Mothiba (REVOLUTION)
"Man these speakers should come with a warning! "Sound quality so good, you won't be able to walk away from them!""
Continued in "Read More" link below along with more reviews.
Read More ►
---
Comments from Recording & Movie Studios in USA
"These monitors have the world's next level in transients"
"I have never experienced anything like this before"
"The clarity & separation is incredible, I can focus on any Instrument clearly"
"I can hear things in the production that I never knew existed"
"Listen to the Reverb"
"I just can't stop listening to them"
---
---
Our Conclusions
Undeniably Accurate, Faultless Frequency Reproduction, Incredible Depth, Clarity & Dimension.
You will hear Compression & Reverb tails more accurately than you have never heard before.
A whole new level of Transients, Clarity & Distinction.
All this at high & low listening levels.
Our first version intentionally had no DSP. This ensured the system and all components were doing exactly what they should from the source itself. Some companies use DSP to make up for the lack of what the source can't produce, you can hear that. It simply doesn't sound right and is misleading.
With the addition of DSP we have fine-tuned the original high praised system to perfection.
Finally, as an engineer, producer or artist your mixes can now be "undeniably accurate" and your work "more enjoyable". This will translate right down the line through to clients and end consumer.
Even when listening to recordings you know well, you will discover things you never knew existed until now.
The Jones Scanlon monitors, gives you a whole new listening experience, transporting you into the very essence of musical dimension.
---
Cabinet Specs
Finish - Stunning 2 Pak Automotive paint finish with high gloss clear coats
Standard finish is red
Available in custom colours. Match your décor, order your preferred colour
Woodwork 18mm MDF
Cabinet Specs - for each cabinet:
Power: 650 Watts RMS powered
Channel 1 Bass-Mid: 500 Watts RMS @ 4 ohms
Channel 2 Tweeter: 150 Watts RMS @ 8ohms
Power Amp: State of the art D Class switch mode 2 channel power amp with heat sink plate mounted into the rear of the cabinet
Power Amp frequency: 20 Hz – 20 kHz
Cabinet tuning: 35 Hz to 20 kHz
Cabinet response: Half loudness Graphed down to 28Hz
HPF switch at 30 Hz
Driver: Custom made Wayne Jones 10" driver with Aluminium cast frames, specially formulated Kevlar impregnated eucalyptus pulp cone.
Voice coil: 3"
Magnet: Massive Ferrite
Tweeter: 1.46" Voice coil
Crossover point: 2.4 kHz
Control plate: Black Steel
Universal Mains Power in: Standard IEC
DSP & Control Plate Features
Inputs: XLR Analogue Balanced
Custom DSP - 192k SHARC processing
USB connector for WJ Audio use only. Used for software updates
3 Toggle switches with selections

Inputs: XLR Analogue
2 Room EQ switches

Centre positions are flat – undeniably accurate
Room 1: Preset with slight boost at 92.8 Hz and 143 Hz
Room 2 & 3: for WJ Audio future programming
HPF: 30 Hz

LED on Control Panel for power operation.
Shipping Dimensions & Weights:
Shipped as a pair on a 1/2 size pallet (included in shipping weight & dimensions)
Carton - Double thickness cartons lined with high density die cast foam for ultimate protection.
W 60 x H 67 x D 80 cm = Total 207 cm (23.6 x 26.4 x 31.5 Ins)
63 kg / 139 lbs
---
---
The Design Team
Ordering
As these are custom & hand made in Australia. If not in stock there could be a wait time of up to 8 weeks from time of order
Payment
50% required at time of order with balance payable when ready to ship
International shipping is by DHL Express
Shipping & local duties & taxes are the customers responsibility
Warranty is 3 year limited on all parts & Labour
---
Resources & Jones-Scanlon Studio Monitors Product Information
---
View More Jones-Scanlon Studio Monitors