One of the highest regarded upright bass players in the world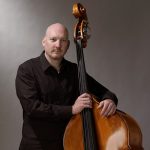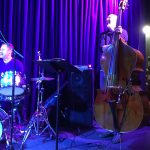 Scott Colley, the bassist of choice for such jazz legends as Herbie Hancock, Jim Hall, Andrew Hill, and Michael Brecker. His remarkably empathetic skills, strong melodic sense and improvisational abilities have served him well in groups led by colleagues Chris Potter, Adam Rogers, Brian Blade, David Binney, and Kenny Werner. But it is as a composer and bandleader in his own right that Colley has flourished in recent years, as evidenced by a string of recordings, beginning with his 1996 debut Portable Universe, (Freelance) and continuing with 1997's This Place (SteepleChase), 1998's Subliminal (Criss Cross), 2000's The Magic Line (Arabesque) 2002's Initial Wisdom (Palmetto), 2007's Architect of the Silent Moment (CAM jazz), and the 2010-release, Empire (CAM jazz).
Appearing on more than 200 albums to date. He has worked with a variety of musicians from guitarists Bill Frisell, Pat Metheny and Adam Rogers; saxophonists Michael Brecker, Chris Potter and Clifford Jordan; pianists Herbie Hancock, Kenny Werner, Edward Simon; and drummers Brian Blade, Antonio Sanchez, Bill Stewart and Roy Haynes. Read more at www.scottcolley.com ➤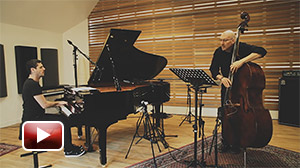 More Performance Videos
Scott will be using a WJ 1×10's pair, 1000 Watts with Pre-Amp
WJ 1×10's Stereo/Mono 500 Watts per side
WJBP Stereo Valve Bass Guitar Pre-Amp
Wayne Jones AUDIO Shop
Scott has just recorded a new CD "Current". This has been a fan funded project
Please join the New Fan-Funded Project on Artistshare available Now!
http://www.scottcolley.com
Recordings for Purchase
Wayne Jones has created a beautiful 2 channel tube preamp of the highest quality. It is exceptional for optimizing any high-end microphone and works seamlessly with the internal 48-volt phantom power from the preamp. This gives total control of the microphone sound with the 6 band built in EQ. The other channel can be used to combine the microphone with any pickup. The best of both worlds for acoustic bass! Thank you Wayne!
Scott Colley