Guitarist, Frontman – Jazz, Funk, Soul, Passion
The secret is out, the WJ 1×10 1000 Watt Powered Stereo/Mono system is also an amazing Guitar Amp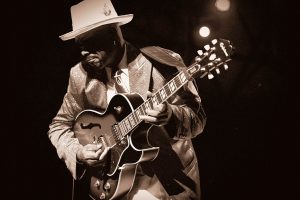 Wonderful guitarist and frontman, Nick Colionne, has discovered what  Gerey Johnson was exclaiming "Wow these are incredible" about, the WJ 1×10 1000 Watt (500 per side) Powered Stereo/Mono system along with the WJBP Stereo Valve Pre-Amp makes for an amazing guitar amp/rig.
With a jazz style that is both urban and contemporary, Nick Colionne has blazed a trail to the top of the ranks of today's stars. Combining jazz, R & B, blues and funk, he has an unmistakable sound and vibe that is instantly recognizable. Nick takes the guitar to unexpected places every time he performs and his rich baritone vocals delight his audiences. As for his showmanship….you have to experience a Nick Colionne show for yourself. With style and energy to spare, unparalleled musicianship and a natural comedic flair, he is one of a kind.
His newest CD, "THE JOURNEY", offers a palate of moods and flavours born of life experiences, challenges, and the effect of the people past and present who have helped shape and mould his sound, and promises to give fans more of what they expect from the talented Colionne.
The amp is killing. The presence, the way it's punching me be the back, just loving it all – I am loving it.
I can hear myself with amazing clarity. As a front man I move all over the stage. They are so clear & precise with such an awesome fast attack. I was so used to the sound going out of the back of my amp. I can't believe what I'm hearing! I just plug into the front of the pre amp & spread the cabs apart to my liking. I asked my sound engineer if I was too loud as they were so present, he said "no not at all"