Once again our new endorsee is a testament to the versatility and high fidelity of the Wayne Jones AUDIO range. Welcome on board guitarist Gerey Johnson.
Gerey is using the WJ 1×10 1000 Watt (500 per side) Powered Stereo/Mono system along with the WJBP Stereo Valve Pre-Amp.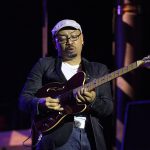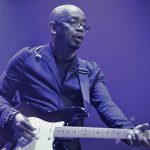 Most recently the touring guitarist with Richard Elliot, Boney James, Euge Groove, and The ExSenators, He's been on the contemporary jazz scene for years as a musician, songwriter, producer and record company executive. You've seen him with Boney James, Rick Braun, the Sax Pack, Down to the Bone, George Duke, Warren Hill, Paul Taylor, Eric Darius, Micheal Manson and many of the other top names in smooth jazz. In Chicago, he is Co-Producer/Music director for the concert series, SmoothChicago.com and a number of special events. He is Co-Producer of the Low Country Jazz Festival in North Charleston, South Carolina. With credits on over 75 nationally distributed records, you can hear his work on recordings from jazz artists such as Richard Elliot, Rick Braun, Steve Cole, Brian Culbertson, the Sax Pack and Down To The Bone to R&B artists such as Janet Jackson, Mary J. Bilge and Lisa Stansfield to gospel acts such as Yolanda Adams. He gets around!!
He's currently working on his first project as s solo artist and looking forward to introducing Wayne Jones AUDIO into his recording process!
For his calendar, artist listings and discography go to www.gereyjohnson.net
Wayne Jones Audio rig on its 1st gig – Frickin rocked!
Lots of punch, cut through most excellently and was able to get a warm jazzy tone, get funky rhythm skanks and rock out with no issues! Pedals sounded like how they were supposed to! Love me some Wayne Jones Audio!